(Image credit:
Getty Images
)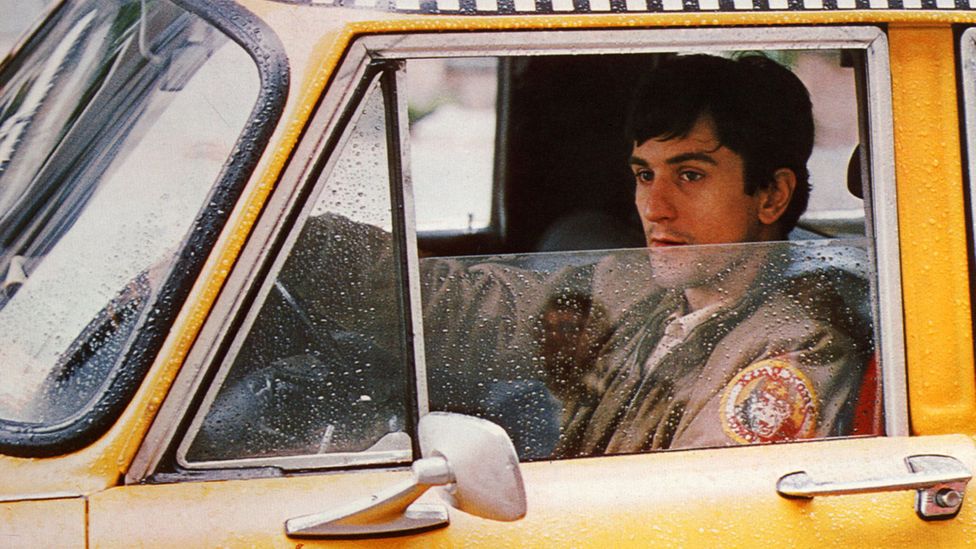 As film festivals and exhibitions celebrate the city, Caryn James picks the movies that capture the essence and energy of New York.
W
We'll never know how many people have been drawn to New York because of its image on screen (Holly Golightly has a lot to answer for) and how many have been frightened away (lookin' at you, Taxi Driver). But from the earliest days of cinema, the city has appeared on screen in all its variations, from its great art and glittering lights to packed subways and littered streets. Two ambitious film series here capture that range. The Manhattan theatre Film Forum has this spring been running The City: Real and Imagined, whose title alone suggests the true-to-life, the mythic, and the sometimes blurred line between dreams and reality. Bruce Goldstein, the cinema's Repertory Program Director, tells BBC Culture that for a film to be truly "New York", it needs more than a setting. "The city really has to play a part in the story and the way people live," he says.
More like this:
–       The 1998 film that predicted the future
–       India's new wave of shocking films
–       New Spider-Verse is 'a disappointment'
That series is running in conjunction with The Museum of the City of New York's centennial celebrations. Its exhibition This is New York: 100 Years of the City in Art and Pop Culture includes a year-long film series arranged decade by decade, starting with the 1924 silent film Manhandled. Gloria Swanson, 26 years before Sunset Boulevard, plays a shopgirl who dreams of bigger things, a plot that has never gone away. The series' curator, Jessica Green, tells BBC Culture, that she sought out "those moments caught on film when subcultures were born that went on to dominate the planet. New York makes it, the world takes it". She cites two documentaries about drag – the little known The Queen (1968) and the classic Paris Is Burning ­(1990) – as films about a subculture that has since gone mainstream with shows like RuPaul's Drag Race.
Among these endless possibilities, here are 11 of the most definitive, iconic New York films, depicting the city in all its ethnic diversity and class differences, its grimy moments and glamorous star turns.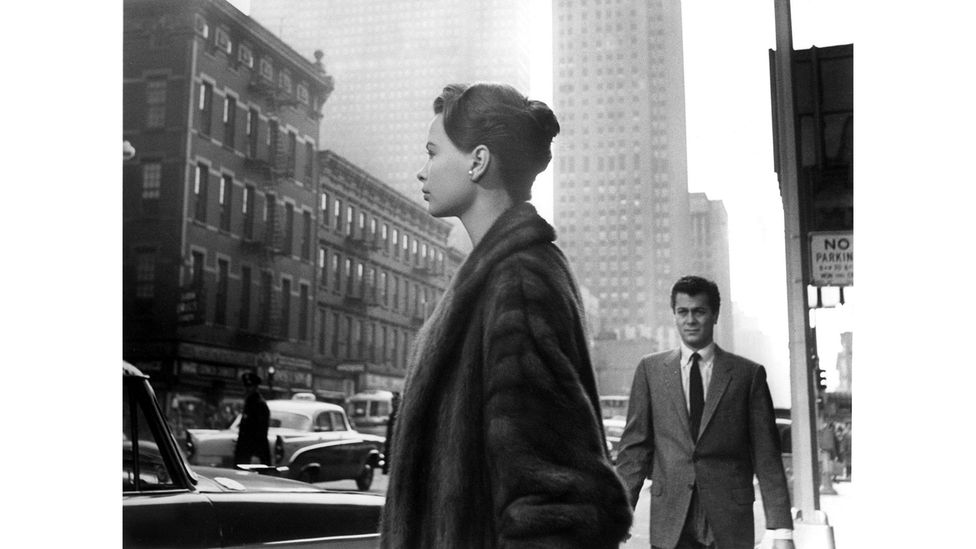 The Sweet Smell of Success (Credit: Alamy)
1. The Sweet Smell of Success (1957)
If one film cries out New York, it's this classic, with Tony Curtis as the wily, ethically challenged publicist Sidney Falco and Burt Lancaster as the unscrupulous, powerful gossip columnist JJ Hunsecker. Set against what are literally the bright lights of Broadway and Times Square – gloriously shot by the great cinematographer James Wong Howe – Hunsecker lives in a sumptuous apartment, holds court at a nightclub, and makes and breaks careers. With a jazz soundtrack, The Sweet Smell of Success has it all: fame, ambition, backbiting – the very qualities that make the city so alive. Hunsecker's attempts at wielding political power give the story a timely resonance, and the chiselled dialogue includes the classic line from Hunsecker to Falco: "I'd hate to take a bite out of you. You're a cookie full of arsenic".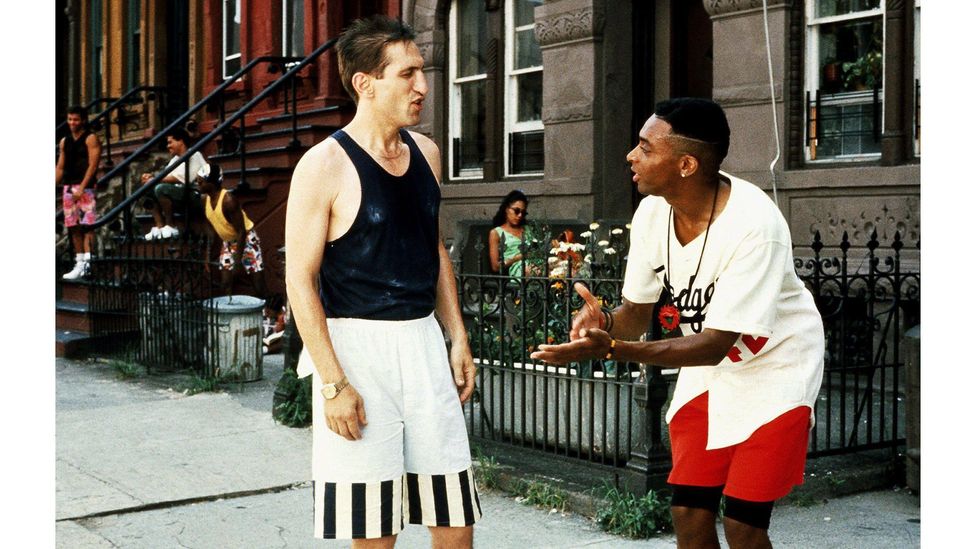 Do The Right Thing (Credit: Alamy)
2. Do the Right Thing (1989)
Spike Lee may be the quintessential New York director. His brilliant depiction of an ordinary Brooklyn neighbourhood on a blistering summer day remains a galvanising immersion into everyday New York with all its problems. Sadly, it is even more relevant as it depicts the racial tension that erupts between the black residents – including Giancarlo Esposito as Buggin Out and Lee as Mookie the pizza delivery guy – and Danny Aiello as Sal, the Italian-American pizzeria owner. The scene in which police choke Radio Raheem (Bill Nunn) to death is terrible to watch because it seems so real. Jessica Green, curator of the New York museum's series, calls it "the definitive New York film because it's contesting with transforming neighbourhoods and questions of class and race".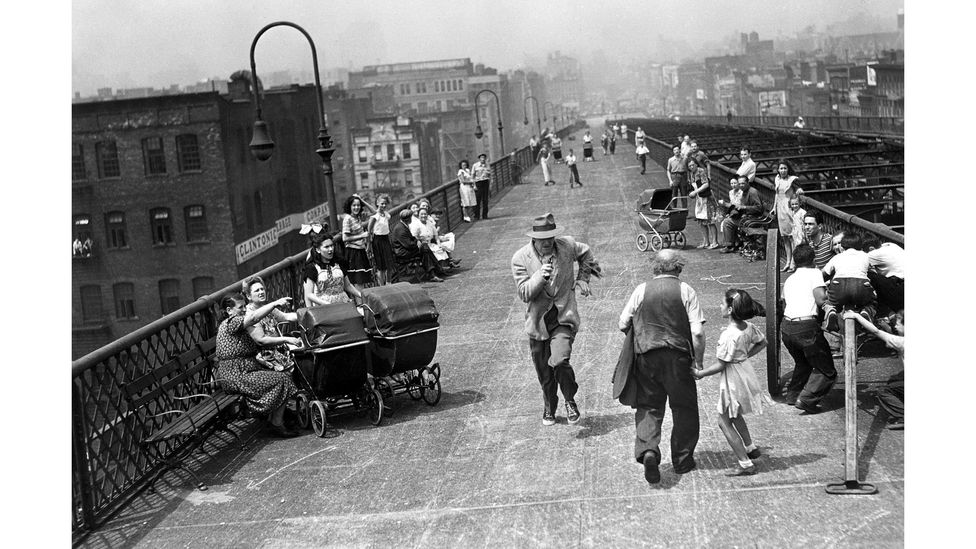 The Naked City (Credit: Alamy)
3. The Naked City (1948)
Jules Dassin's crime noir, which follows two detectives trying to solve a young woman's murder, starts with an overhead shot of the city, and never loses it connection to the pavement those detectives pound and the neighbourhoods they traipse around, right through to a spectacular chase scene on the Williamsburg Bridge, connecting Manhattan and Brooklyn. The hokey voiceover is hilarious today, ending with the line, "There are eight million stories in the naked city. This has been one of them," but the film is a delight to watch. Goldstein, Film Forum's curator, has made a fascinating short, Uncovering the Naked City, following Dassin's authentic locations, and points to the texture of the film as its essential New York quality. "If you take those vignettes [of the setting] out, all you have left is a pot boiler," he tells BBC Culture. "You put them in, and it becomes this beautiful love letter to the city."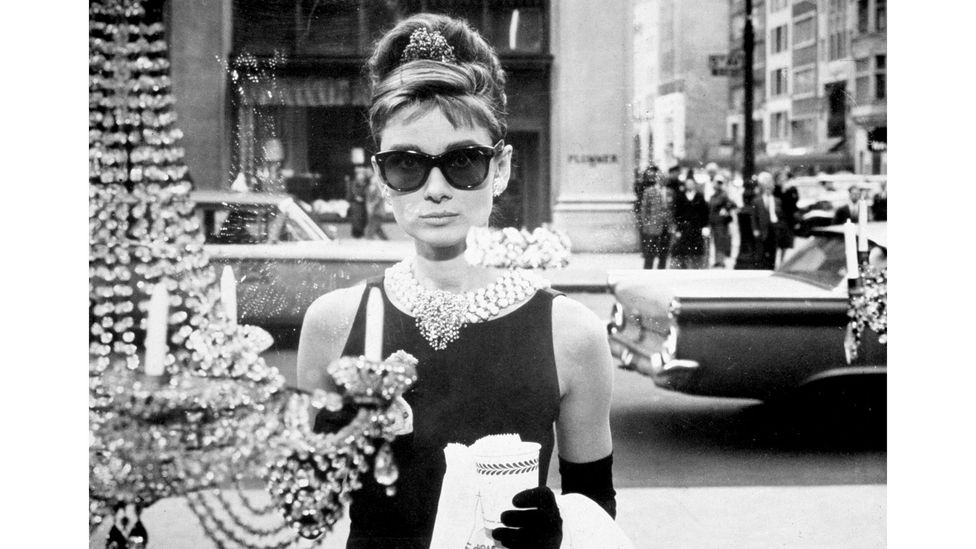 Breakfast at Tiffany's (Credit: Getty Images)
4. Breakfast at Tiffany's (1961)
The image of Audrey Hepburn in pearls, sunglasses and Givenchy, sipping coffee outside the window of Tiffany's after a long night out, is as iconic as the Statue of Liberty. But while the statue stands for freedom, Hepburn's Holly Golightly is New York glamour itself. The dark side of her life as a woman to whom men give $50, supposedly to tip the ladies' room attendant but really for more, is glossed over of course, as the film makes her life of parties, champagne and fabulous clothes seem carefree and tantalising. Mickey Rooney's role as Holly's neighbour Mr Yunioshi now lands as an unforgivable ethnic stereotype, a blight on the movie. But Hepburn's performance as the backwoods Lula Mae, who came to New York and reinvented herself as Holly, is enduring. There may be no film that has attracted more people to New York, shown here as a glittering city of transformation and possibilities.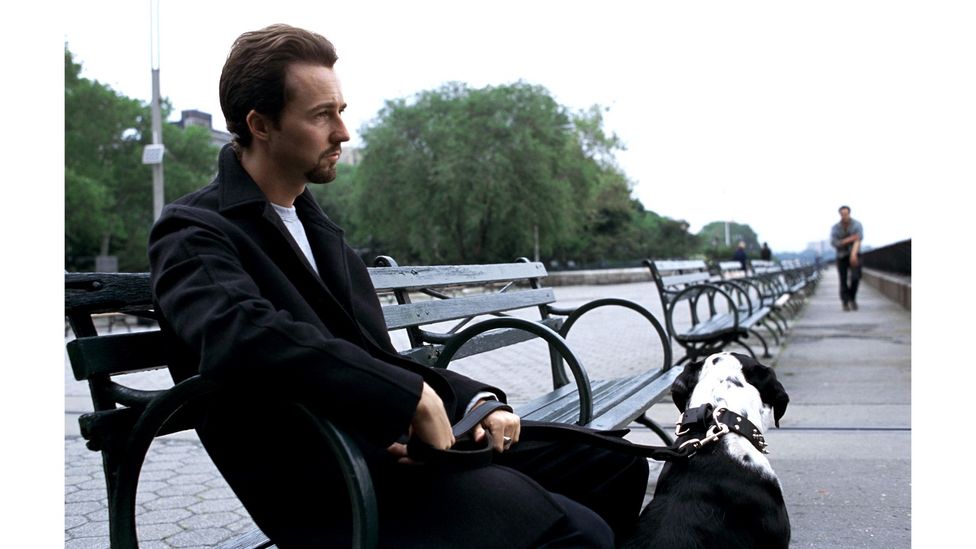 25th Hour (Credit: Alamy)
5. 25th Hour (2002)
This may be one of Spike Lee's least personal films, based on a 2000 novel by David Benioff (later co-creator of the television adaptation of Game of Thrones) but Lee  transformed the story into one of the most eloquent yet subtle evocations of New York in the aftermath of 9/11 ever put on screen. The story follows Edward Norton as Monty, a convicted drug dealer on his last day before reporting to prison, but his regrets and fears play out in the shadow of a mournful post-9/11 moment that Lee establishes throughout. From the haunting blue lights of the Twin Towers memorial tribute rising in the sky to a Wanted poster of Osama Bin Laden, the background touches are uncommented on but part of the city's fabric, along with the simmering ethnic tension that is a constant in New York's history. Monty's and the city's sense of loss become inseparable. One of Lee's most underrated films, 25th Hour is evidence that he really is the best of New York directors.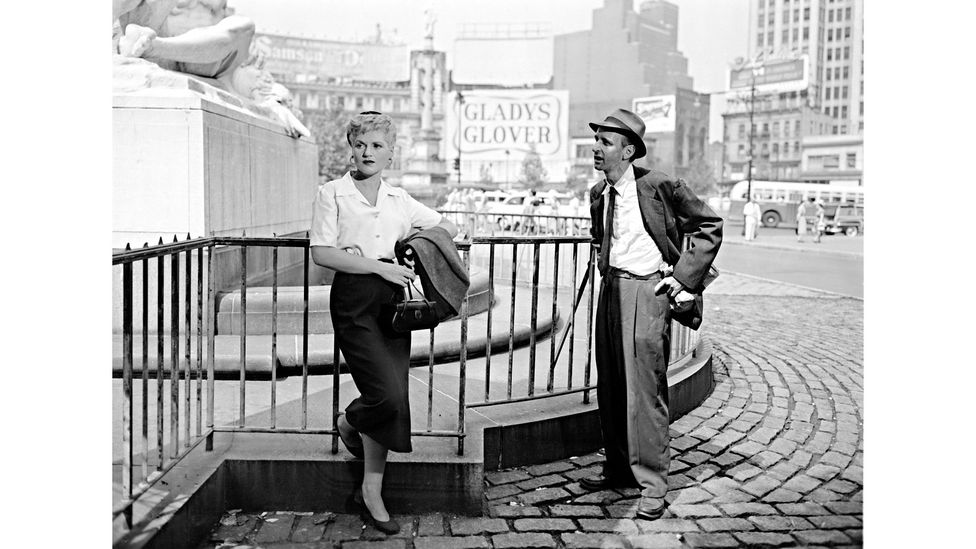 It Should Happen to You (Credit: Alamy)
6. It Should Happen to You (1954)
Movies are filled with young women who come to New York to make their names, but none as effervescent or funny as Judy Holliday in this classic. Decades before the concept of "famous for being famous", Holliday played Gladys Glover, a model who wanted people to know her name, and rented a billboard in the heart of the city to do just that. Without explanation, it just said Gladys Glover, a sight that tickled her, confused the pubic and annoyed her romantic interest, whose on-screen credits read "Introducing Jack Lemmon". Goldstein says that when the film was shot, "They actually had a billboard in Columbus Circle that said 'Gladys Glover'. And people wondered, 'what the hell is Gladys Glover?'" The film offers a sly, sophisticated take on the hunger for fame, even if it ends with Gladys's unsettling – and today unlikely – choice to go back to being an ordinary person.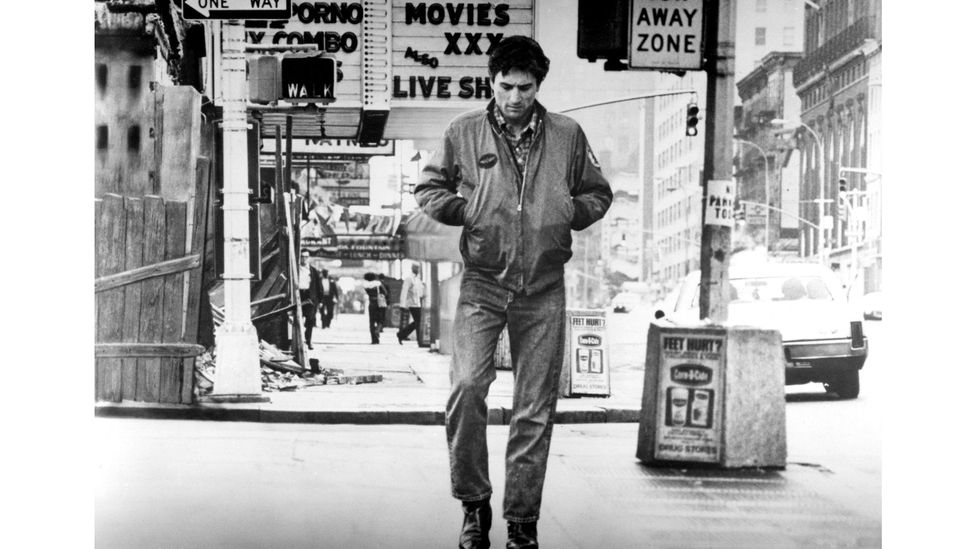 Taxi Driver (Credit: Alamy)
7. Taxi Driver (1976)
Sure, Travis Bickle could have driven a cab in some other city, but it wouldn't have been the same. Robert De Niro is seared into our memories as Bickle standing in front of his mirror saying "You lookin' at me?" But don't forget the atmospheric city he drives through in Martin Scorsese's dark vision of New York in the crime-filled 1970s. The night streets are full of bright lights piercing ominous shadows, a place where Jodie Foster plays a child prostitute whom Bickle decides to save, and Cybill Shepherd is the wholesome campaign worker he takes on a date to a sleazy 42nd Street porn cinema. Scorsese's direction and Paul Schrader's screenplay create the precise gritty landscape where Bickle's past in the Vietnam war and his disturbed present, haunted by PTSD, can flourish and grow, until his disgust with the city turns into violence.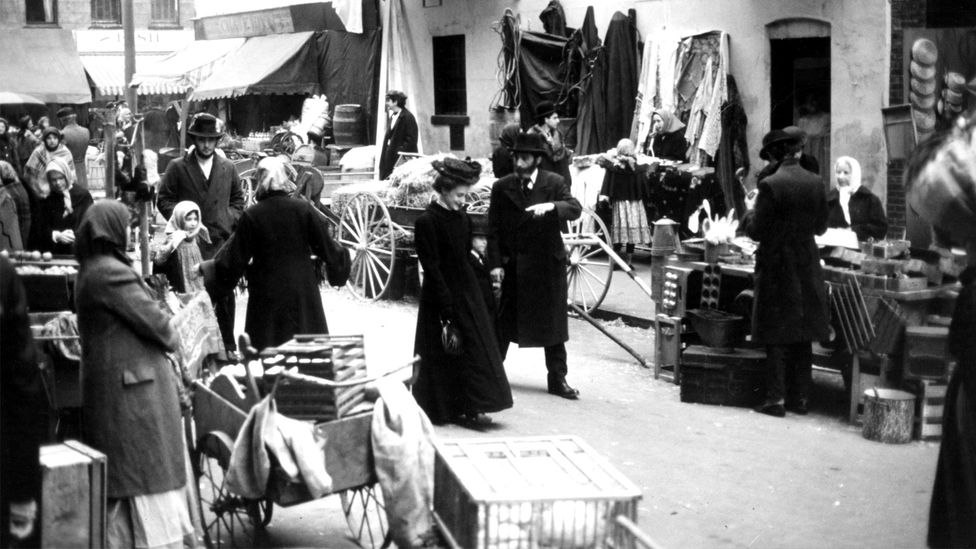 Hester Street (Credit: Alamy)
8. Hester Street (1975)
The late 19th-Century neighbourhood of Jewish immigrants on New York's Lower East Side might stand in for all immigrants coming to the city over the centuries. Carol Kane was nominated for an Oscar as Gitl, a traditional young mother who arrives in the US from Eastern Europe with her young son to join her husband, only to find that he has changed his name from Yankel to Jake, and is having an affair with a more modern woman. Through Kane's eloquent portrayal, director Joan Micklin Silver's sepia-tinged period piece, much of it in Yiddish, raises a question that goes to the heart of immigration, then and now: "how can you retain your identity yet fit into this new world?" And in its own quiet way, it is a feminist work, as Gitl comes to determine her own future, a trope that plays into the bedrock idea of New York as a city of possibilities.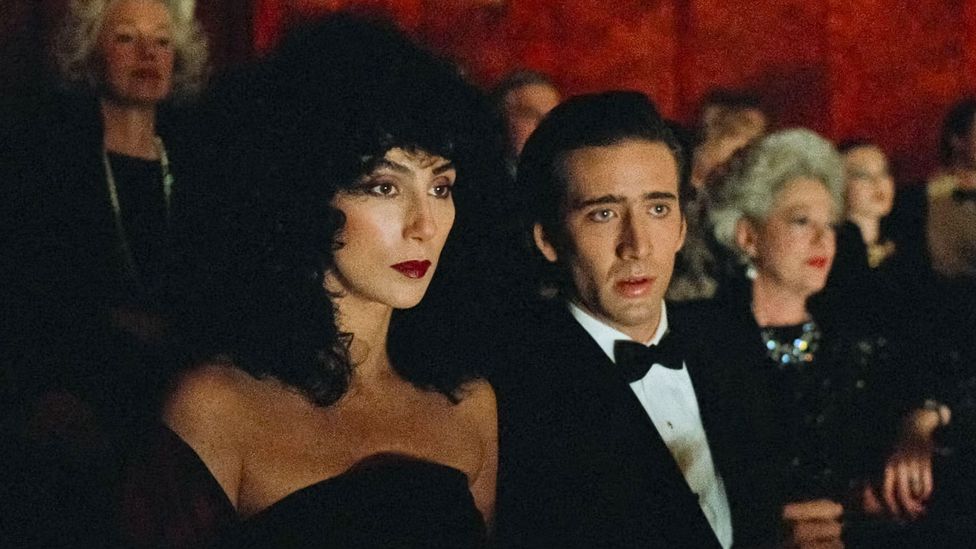 Moonstruck (Credit: Alamy)
9. Moonstruck (1987)
When Cher, in her Oscar-winning role as the widowed Loretta Castorini, tells Nicolas Cage, hopelessly in love with her as Ronny Cammareri, to "Snap out of it!" it is just one of those iconic moments in a romantic comedy that is as funny and charming as ever. The film takes full advantage of its authentic New York locations, including Loretta's Brooklyn neighbourhood, with the hair salon that transforms her from ordinary to glamorous, and the corner restaurant where she and her close-knit family are regulars. A date with Ronny takes her to Manhattan and Lincoln Center, where they meet at the fountain outside and where, inside at the Metropolitan Opera, she discovers the wonders of the building's grandeur and of La bohème. Moonstruck embraces the city's small corners, family feeling, unexpected romance and its internationally famous sites close to home.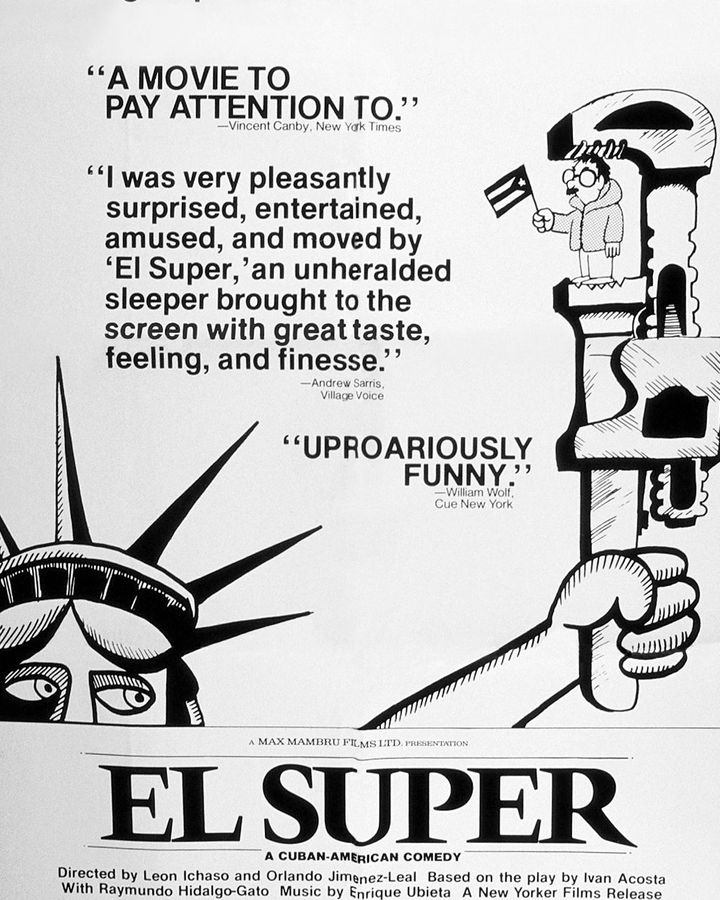 10. El Super (1979)
There are dozens of under-the-radar gems about New York. This small and frankly hard-to-find indie about a Cuban immigrant family adjusting to a new life is among the best, a drama with a light touch, vivid characters and the feel of detailed reality. Roberto (Raimundo Hidalgo-Gato) is the superintendent of a large building, whose working class residents' lives are similar to his. He, his wife and their Americanised daughter left Castro's Cuba a decade before, a fact that shapes their desire for freedom as well as their inability to go back. But their story is also timeless as it reflects the ups and downs of living in a different, unsettling world. Exhausted and tired of the snowy streets, Roberto calls New York "the land of work and cold". He says, "This city is killing me, little by little," a potent reminder that even when New York is a dream, it is not always easy.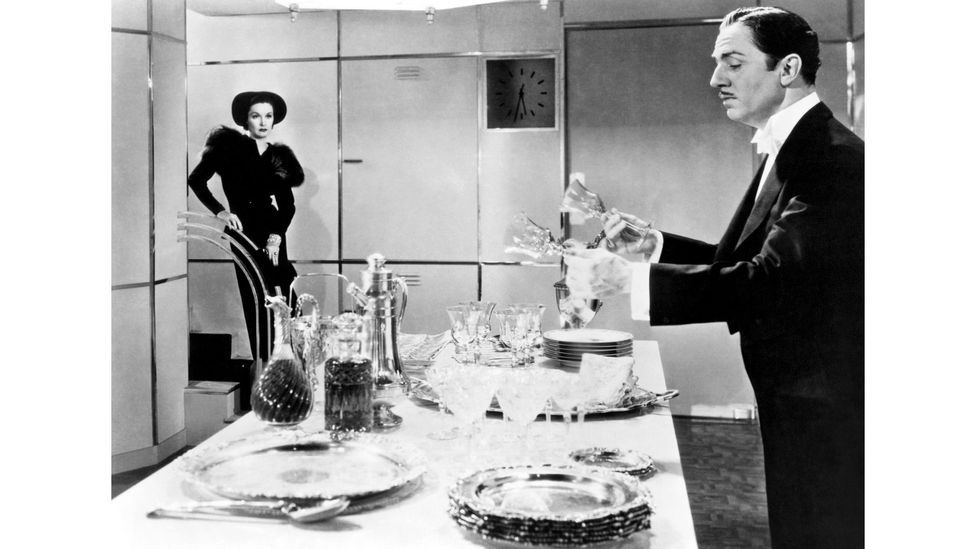 My Man Godfrey (Credit: Alamy)
11. My Man Godfrey (1936)
Nothing could be less authentic than this madcap Depression-era comedy, in which an indulged Fifth Avenue heiress named Irene Bullock, played by Carole Lombard at her most antic, falls for Godfrey, played by William Powell at his most urbane. She discovers him in a homeless encampment while looking for a "forgotten man" during a scavenger hunt, hires him as the family butler, and the film drops us into the reckless, thoughtless, comically disorganised lives of the empty-headed rich. The film's touch of social commentary about the underclass is diminished when it turns out Godfrey is highly educated and also from a wealthy family, but the Bullocks in their grand apartment, dressing for dinner, capture the cosmopolitan, aspirational image of New York that the movies did so much to foster. In reality, the Bullocks' fictional address would have put them on the steps of the Metropolitan Museum of Art, where the costume institute's annual gala proves that the frothy rich are still a captivating part of the city's story.
The City: Real and Imagined continues at Film Forum to 15 June.

This is New York: 100 Years of the City in Art and Pop Culture continues at the Museum of the City of New York to 21 July. Its film series New York on Film: Decade by Decade, begins with Manhandled on 15 June.
Love film and TV? Join BBC Culture Film and TV Club on Facebook, a community for cinephiles all over the world.
If you would like to comment on this story or anything else you have seen on BBC Culture, head over to our Facebook page or message us on Twitter.
And if you liked this story, sign up for the weekly bbc.com features newsletter, called The Essential List. A handpicked selection of

;