Out of 19 suspects arrested on terrorism charges, at least nine are accused of nothing more serious than trespassing.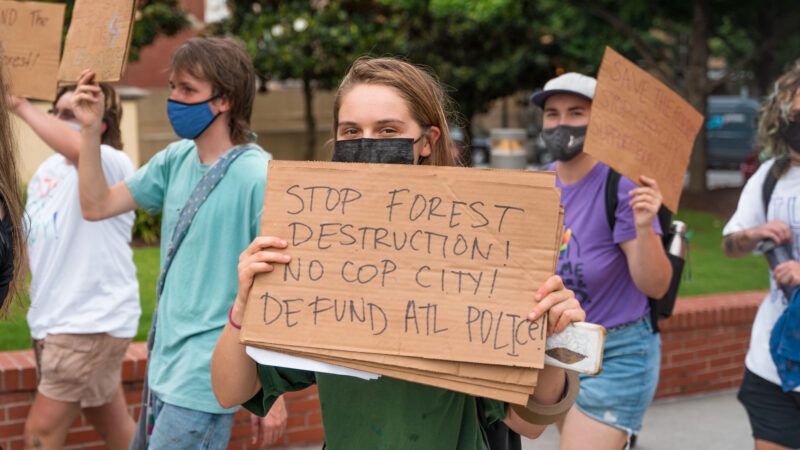 (Andrew Clark/ZUMAPRESS/Newscom)
An anti-police protest movement in Atlanta has ironically led to a massive expansion of police powers.
In what was once dubbed "the city too busy to hate," protesters have recently taken aim at a new police training facility. In September 2021, Atlanta's city council approved the construction of a police and firefighter training facility on 85 acres of a 265-acre parcel of city-owned land in Georgia's South River Forest. The campus would include a driving course and a mock city that both police and firefighters could use to train. Funding for the project would include $30 million from the city police budget and twice that from the Atlanta Police Foundation (APF), a private nonprofit that fundraises for donations to supplement police budgets.
The training facility project has drawn the ire of anti-police protesters, who derisively dub it "Cop City." This is at least in part because the facility is slated to be built on the site of a prison farm that operated until the 1990s.
Opponents of the project recoil at the idea of turning the site of the prison farm—which subjected inmates to "slave conditions" for decades—into yet another tool of law enforcement. In return, for more than a year, activists from a group calling itself "Defend the Atlanta Forest" have set up camp in the forest in an attempt to discourage further development.
At times, the protests have turned violent: Last year, police arrested eight protesters for throwing rocks and Molotov cocktails at officers. And on January 19, a Georgia State Patrol (GSP) officer shot and killed activist Manuel Paez Teran. The officer alleges he returned fire after being shot first, and the Georgia Bureau of Investigation (GBI) confirmed that Paez Teran had purchased the gun used to shoot the officer in 2020, but no body camera footage of the exchange is available.
Violence, whether stemming from cops or protesters, is obviously indefensible (and Paez Teran's death ought to be thoroughly investigated).
But those terrible incidents aside, law enforcement's response to protesters who are engaging peacefully has been shockingly heavy-handed. According to arrest warrants reviewed by Grist, 19 protesters arrested in relation to Cop City in December and January have been charged with felonies under Georgia's law against domestic terrorism. Nine of those 19 are accused only of misdemeanor trespassing.
One of the warrants refers to the group, Defend the Atlanta Forest, as "a group classified by the United States Department of Homeland Security as Domestic Violent Extremists." Georgia's domestic terrorism law was passed in 2017 partly to address incidents like the 2015 murder of nine black churchgoers in Charleston, South Carolina. The law provides penalties for death, kidnapping, serious bodily injury, or the destruction of "critical infrastructure." But it does not specify that the law can apply to members of a group not directly involved when other members commit violent acts. Many of the warrants go into great detail about the actions Defend the Atlanta Forest is accused of, only to then lump in individual members on the basis of "criminally trespassing on posted land and sleeping in the forest" or "occupying a tree house on the site, refusing to leave, and posting videos and calls for actions on social media."
If convicted, the penalty for the destruction of critical infrastructure is between five and 35 years in prison.
The arrests in Atlanta are yet another example of the anti-terror mission creep that has set in over the last two decades. While the term terrorism may evoke specific mental images, as a legal term it has grown to include any number of things outside the realm of suicide bombings or the attacks on 9/11. In 2021, a Michigan prosecutor slapped a school shooter with a terrorism charge on the grounds that his actions had sown fear in the community.
Some actions in Atlanta may genuinely warrant prosecution, but treating every protester as a terrorist only serves to chill free speech. Lauren Regan, executive director of the Civil Liberties Defense Center, told Grist, "It's so next time a vigil happens, mom or the school teacher or the nurse—or someone that has higher risk of randomly getting arrested—is probably going to think twice about going."