Iván Prieto didn't board the flight back to the communist island on Monday.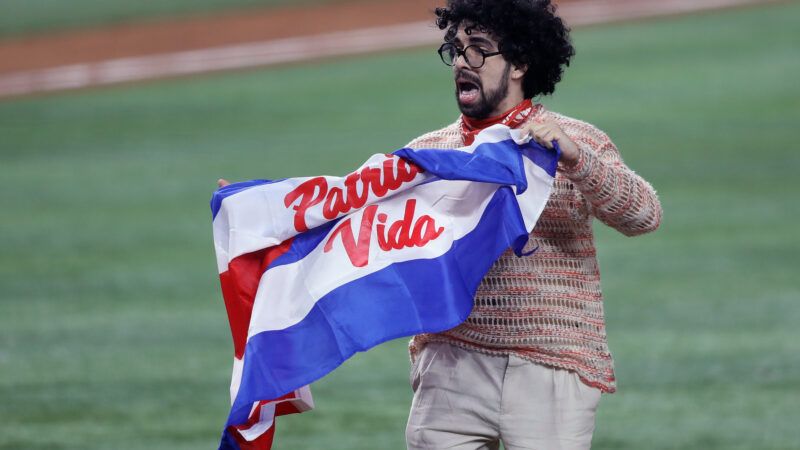 (Aaron Josefczyk/UPI/Newscom)
The Cuban national baseball team lost to the United States 14–2 in the World Baseball Classic semifinals Sunday night in Miami. But that's not all it lost.
Bullpen catcher Iván Prieto didn't join his teammates as they flew back to the communist island on Monday, staying in Miami, reported Pelota Cubana, which broke the story. The details of his whereabouts—and whether he was picked up by family members at his hotel, as some have speculated—remain unclear. The Miami Herald reported that Prieto simply "didn't show up at Miami International Airport for the team's flight to Havana."
Why exactly Prieto chose to defect is also uncertain, but one can assume that it is to pursue a career in the MLB. For decades, Cuban players have been barred from joining the MLB due to the U.S. trade embargo, leading to multiple defections. To offset this, the Baseball Federation of Cuba in 2019 proposed a deal with the MLB to allow a list of players to join the league without having to defect. The Trump administration rejected that deal. For Cuban baseball players, abandoning their team while abroad is a way to chase their dreams.
It's also speculated that Prieto was unhappy with the country assigning him as only a bullpen catcher and not an official player on the national roster, seeing as he's known as one of the best catchers in Cuba, playing for the Alazanes de Granma team in the Cuban National Series. Cuban President Miguel Díaz-Canel hasn't commented on Prieto's defection, though he congratulated the Cuban national team on Twitter on its historic run.
More than 1 million people of Cuban descent reside in the greater Miami area. As such, the stands at loanDepot park, the home stadium of the Miami Marlins, were filled with both proud expatriates and protesters opposed to Cuba's dictatorship. Individual protesters ran onto the field throughout the game waving banners, one reading "Freedom for Cubans," another reading "Country and Life." Another protester unfolded one behind home plate that read, "Down the dictatorship." As one protester was escorted off the field, the stands erupted in a chant for libertad.
The U.S. embargo makes it more difficult for those who are trying to leave the authoritarian regime to bring their talents here, but some politicians are trying to ease the journey. In January, the Biden administration announced new pathways for asylum for Cubans, and earlier this month, a bipartisan group of senators introduced a bill to finally end the embargo.
Despite these efforts, as Anthony Fisher wrote for Reason in 2017, "free and unrestricted travel for Cubans is still prohibited, particularly for Cubans the government would rather keep in service of the motherland—such as doctors and baseball stars." Hundreds of Cuban players have defected over the years, many choosing to play American Major or Minor League Baseball.
Prieto's future plans remain unclear, but he may very well join them in building a better professional life as an American baseball player. "Those high-value Cubans (like most Cubans) will still desire to live free from government repression," wrote Fisher, "and earn a better living for themselves than they will ever be able to do as long as the impoverished island is governed by the same corrupt regime." Just as it has welcomed Cuban defectors before, the U.S. should welcome Prieto—and extend that attitude toward others fleeing the authoritarian regime.