H.B. 4736 would punish foreigners who are, in many cases, deliberately building lives far away from their repressive countries.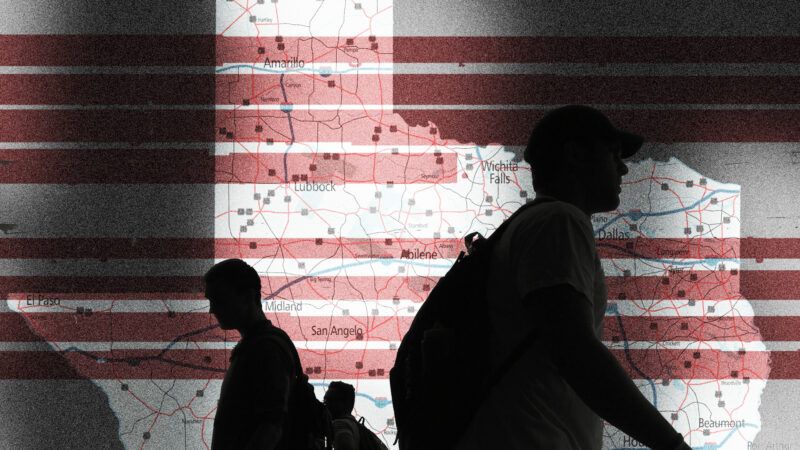 (Illustration: Lex Villena, Stacey Lynn Payne)
Last week, Texas Rep. Tony Tinderholt (R–Arlington) introduced House Bill 4736, which would bar citizens of certain countries from enrolling in Texas universities. Similar to other state bills that take aim at the civil liberties of immigrants of specific nationalities, H.B. 4736 would punish foreigners for the sins of their governments—in many cases, the governments they've fled to establish better lives in the United States.
H.B. 4736 would ban public institutions of higher education from admitting citizens of China, Iran, North Korea, or Russia as students. This would apply to public four-year universities, technical institutes, junior colleges, and medical schools. Undocumented immigrants would also be barred from admission and would be ineligible for resident status under the Texas Education Code. There is no specific language in the bill exempting dual citizens from the ban, meaning a lifelong citizen and resident of the U.S. could be affected if he also happened to be a citizen of a targeted country.
Per the San Antonio Express-News, the legislation "has little chance of advancing this session." It may be more about sending a message than accomplishing a legislative goal. Even so, H.B. 4736 reflects a rising trend of bills filed in state legislatures—in Texas and elsewhere—that would whittle away at the civil liberties of immigrants who are in the U.S. legally.
In November, state Sen. Lois Kolkhorst (R–Brenham) introduced Senate Bill 147, which would bar any "individual who is a citizen of China, Iran, North Korea, or Russia" from buying property in Texas. Originally, S.B. 147 would have banned home purchases, prompting much concern from Texas' immigrant communities and several state lawmakers. Kolkhorst has since introduced an amended version that would allow for home purchases. Still, even before that change, Gov. Greg Abbott said he supported the bill.
Another Texas bill, S.B. 711, would bar any "prohibited foreign actor"—defined to include citizens of any "country identified as a country that poses a risk to the national security of the United States"—from buying property "without written notification to the seller." In that notification, the buyer would have to identify his relationship with a country designated as a national security risk ("whether the buyer is an alien, foreign business, foreign government, or an agent, trustee, or fiduciary" of any of those) and disclose his citizenship.
Foreign college students have come under similar scrutiny elsewhere in the U.S., especially as politicians have moved to punish specific authoritarian countries. Reps. Eric Swalwell (D–Calif.) and Ruben Gallego (D–Ariz.) both floated the idea of kicking Russian university students out of the country after Russia invaded Ukraine last year. Back in 2020, the Trump administration revoked the visas of more than 1,000 Chinese graduate students and researchers at American universities over their ties to Chinese military-affiliated universities. Sen. Tom Cotton (R–Ark.) introduced a bill in 2021 that would've prohibited Chinese nationals from receiving American visas for graduate or post-graduate studies in STEM fields.
Legislation designed to exclude certain foreign nationals from American universities is often predicated on security concerns. But those concerns are largely overblown. What's more, bills like H.B. 4736 would punish foreigners who are, in many cases, deliberately building lives far away from their repressive countries. Ultimately, their civil liberties shouldn't have to suffer as American politicians take aim at foreign powers.