"I know either way he will use it against me…. And after the fact, I know he will try to act like he has some right to the decision," said the woman in text messages to her friends named as defendants in the suit.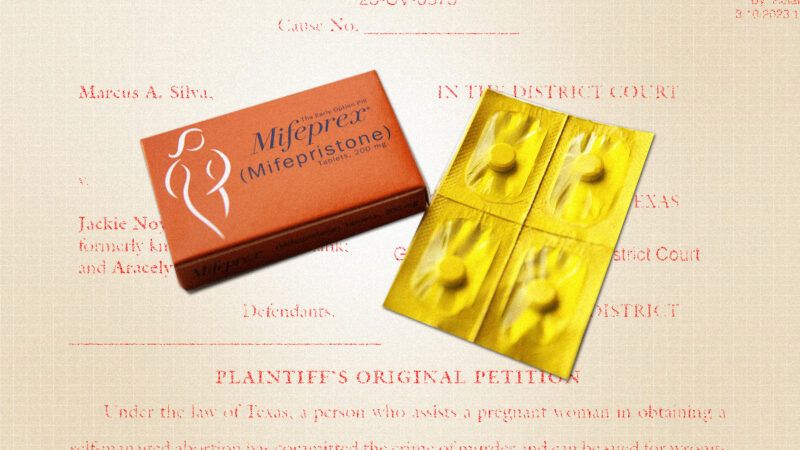 (Illustration: Lex Villena; Erin Hooley/TNS/Newscom)
In Texas, a man filed a wrongful death lawsuit last week against three women who helped his ex-wife obtain abortion pills. In what is possibly the first lawsuit of its kind, the legal action realizes many of abortion advocates' fears—demonstrating the potential of civil suits to be brought against women seeking abortions and those who wish to help them.
Last Thursday, Marcus Silva filed a lawsuit against three of his ex-wife's friends, alleging that they helped her obtain abortion pills last July. The suit also claims that the manufacturer of the pills is liable and states that it will be added as a defendant once it is identified. Silva seeks over $1 million in damages for the "wrongful death" of his and his ex-wife Brittni's "unborn child." The lawsuit was filed just one month after the couple divorced.
Abortion is illegal in Texas, with a narrow exception for abortions performed in a "medical emergency."
The lawsuit contains excerpts from text messages between Silva's ex-wife and two of the defendants, Jackie Noyola and Amy Carpenter. In the messages—which appear to be crudely captured photos of Brittni Silva's phone screen—Brittni and her friends plan to obtain abortion pills.
"Ohhhh ok no so we have pills here in Houston," Noyola texted the group. "So no you wouldn't have to fly. You could get them from us or your could order some online but they're expensive and I think take maybe a week or 2 to get here."
Later, the group discussed when Silva would take the pills. "Do it over the weekend…. Have a heavy period and stay in bed," Carpenter wrote.
A third defendant, Aracely Garcia, was not included in the group text but was named in the suit for allegedly providing Noyola with the pills.
"Each of the five elements of a civil conspiracy is present. Noyola and Garcia combined to accomplish the object of murdering an unborn child with abortion pills, and there was a meeting of the minds on that course of action," the complaint states. "Jackie Noyola took at least one overt act in pursuance of that objective by obtaining the abortion pills and delivering them to Brittni Silva, which resulted in damages when baby Silva was murdered."
While wrongful death suits relating to abortions have been filed before, they have typically been against abortion clinics or physicians performing the procedure. However, because the abortion in this case was the result of medication taken at home, Silva is suing those who helped his ex-wife obtain the pills. He is not pursuing legal action against his ex-wife, as women who obtain abortions are exempt from civil and criminal liability in Texas.
Abortion rights groups have framed the suit as the inevitable result of strict anti-abortion laws. "We are outraged, but we are not surprised. It has been clear for years that anti-abortion extremists plan to use the judicial system as an instrument of fear and intimidation," said Wendy Davis, a Senior Advisor for Planned Parenthood Texas Votes in a statement last Friday. "No one should face fear or the threat of prosecution when seeking reproductive health care."
It is unclear whether this lawsuit will succeed—primarily because the concept is seemingly untested. While one Texas physician was sued in 2021 for violating Texas' then-six-week abortion ban, the suit was dismissed last year after the plaintiff was found to not have standing. It's unclear how this precedent would apply in this case where the fetus' father is suing.
Even if the suit is ultimately dismissed, this lawsuit shows how the law can be wielded to intimidate—and possibly extract monetary damages—from those who help women obtain abortions.