By Caryn JamesFeatures correspondent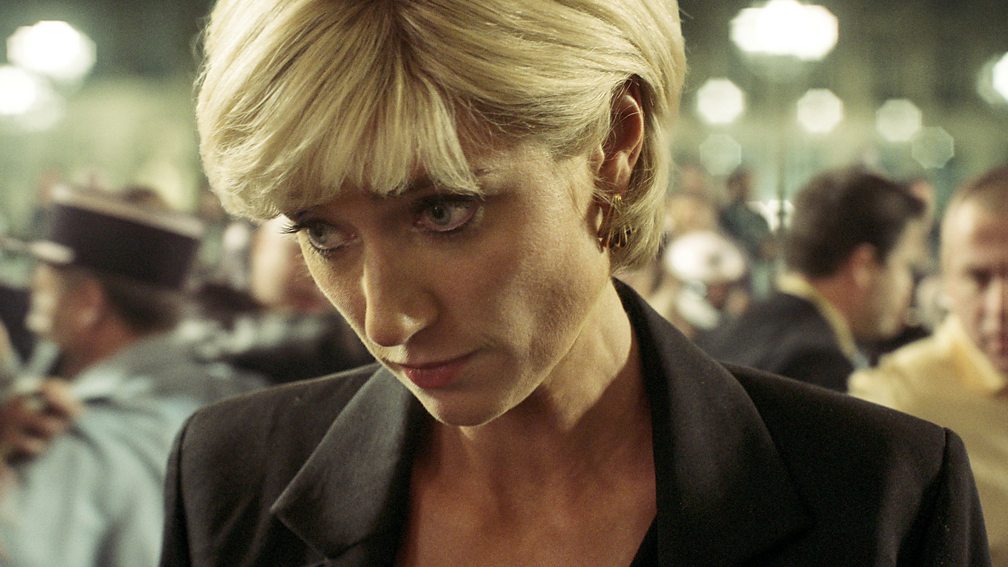 Netflix
The Crown season six (Credit: Netflix)
As Netflix's epic Royal Family drama The Crown reaches its dramatic final series, the show, once 'a joy', has failed to right the terrible flaws of the last season, writes Caryn James.
In its sixth and final season, The Crown doesn't waste a second in getting to its most obvious, looming event. The first episode starts with a man walking his dog on a narrow street, and as soon as we spot the Eiffel Tower, we know what's coming. A black car speeds into a tunnel, followed by more cars and motorcycles, and the sound of a deadly crash. All the while we never leave the dog walker, who takes out his phone to call for help. That scene, with a trajectory so familiar we can fill in the blanks, points to what's weakest about this new season. Instead of righting the near-disaster of last season, it leans into its flaws, including the miscasting of the earthy Dominic West as Prince Charles and the endless, unenlightening reconstructions of the real images and videos that have become part of the culture, recognisable around the world even to viewers too young to remember the 1990s or Diana's death first-hand.
But this season's best moments so far, glimmering through here and there, affirm what has always been the show's most successful, tantalising and satisfying element: the imagined scenes. Starting with Princess Elizabeth in 1947, the series has played off reality while dramatising what the Royal Family might have said and done. There has always been a gap between the series' popularity and some public hand-wringing about those imaginative leaps. Last season the biggest controversy centred on the idea that Charles had asked Prime Minister John Major to help him nudge the Queen toward abdication, an encounter the real Major called "a barrel-load of nonsense".
But such intimate fictions, depicted by the show's creator and main writer, Peter Morgan, with vibrant dialogue and plausibility, set it apart from clumsy historical dramas and news reports. At times Morgan has made the Queen herself seem relatable in her everyday problems, with youthful insecurities, rumours of her husband's infidelities that it seems she'd rather not know about, and a daughter-in-law she found troublesome.
This season's first four episodes are set in 1997, flashing back two months from the Paris car crash, then moving forward through Diana's (Elizabeth Debicki) funeral. (Six more instalments will arrive on 14 December, going through to the wedding of Charles and Camilla in 2005.) The most pressing hand-wringers' concerns amount to nothing. The show is very respectful of the scenes surrounding Diana's death and its aftermath, with no images of the crash or her body. And yes, she appears after her death and converses with both Charles and the Queen (Imelda Staunton), but those characters are clearly, as Morgan has said, imagining what she might have said to them, a sign of their grief rather than a ghost story.
And the series can't avoid its baked-in casting flaw. West's down-to-earth quality is all wrong for a character who, more than ever, seems endlessly self-absorbed and privileged. You might say feeling entitled is an occupational hazard for someone raised to believe God wants him to be King. But The Crown's Charles has coarseness and anger underneath, creating a character who will only be appealing to anti-monarchists. He silently glowers at his mother, whom he calls "Mummy", when she refuses to attend Camilla's (Olivia Williams) 50th birthday party, which would have been a first sign of acceptance. And he explodes at his Deputy Private Secretary, Mark Bolland (Ben Lloyd Hughes), the public relations expert who was seen in season five starting to orchestrate a long-game plan for Camilla to become Queen. Here Charles yells and preposterously demands that positive coverage of Camilla displace the tabloid reports of Diana frolicking around St Tropez with Dodi Fayed (Khalid Abdalla). The questioning, duty-bound young man played by Josh O'Connor in earlier seasons has congealed into this.
Dramatically, West comes through in episode four with his grief-stricken reaction to Diana's death. His face shatters when he walks into the Paris morgue to look at her body, the camera steadily on him and not what he's viewing. In his imagined conversation after her death, he is regretful about their broken marriage. But the character, as Morgan imagines him, never shows remorse for so cynically deciding to marry her to please his parents, never giving up Camilla.
Debicki's performance remains so wrapped in mimicry she must have a permanent crick in her neck from bending her head to look up from under her eyelashes
Camilla herself is hardly present in the season's first episodes apart from standing loyally behind Charles. It will be interesting to see her in the next batch of episodes because she was, unexpectedly, the most nuanced character in the Diana-Charles-Camilla triangle in season five. She was truly in love, yet fiercely determined to become Queen, bringing in Bolland to help.
The Crown's Diana is vulnerable but never layered. Debicki's performance remains so wrapped in mimicry she must have a permanent crick in her neck from bending her head to look up from under her eyelashes so much. Yet she is part of this season's most inventive and surprising turn: a lovely, happy relationship between Diana and Dodi, not a grand romance but one that starts and ends as a friendship between two people who understand the pressures of a powerful family. She is seen as a woman floundering as she tries to take control of her life, working to draw attention to the dangers of land mines (another brief, too-familiar scene) but also jetting off to St Tropez and Dodi's yacht. The show recreates stale images such as Diana in a powder blue swimsuit sitting on the diving board of the yacht. Yet in a more telling, intriguing scene she laughs on the phone with her therapist about Dodi's over-the-top pursuit, which includes his bad, rhyming love poem to her, engraved on a silver plaque. She decides to leave him, as she has been working to overcome what the therapist calls her addiction to drama. Morgan creates a last day for Diana that enhances the tragedy to come, including a tender phone call with her sons in which she assures them she is not going to marry Dodi and promises to be home the next day.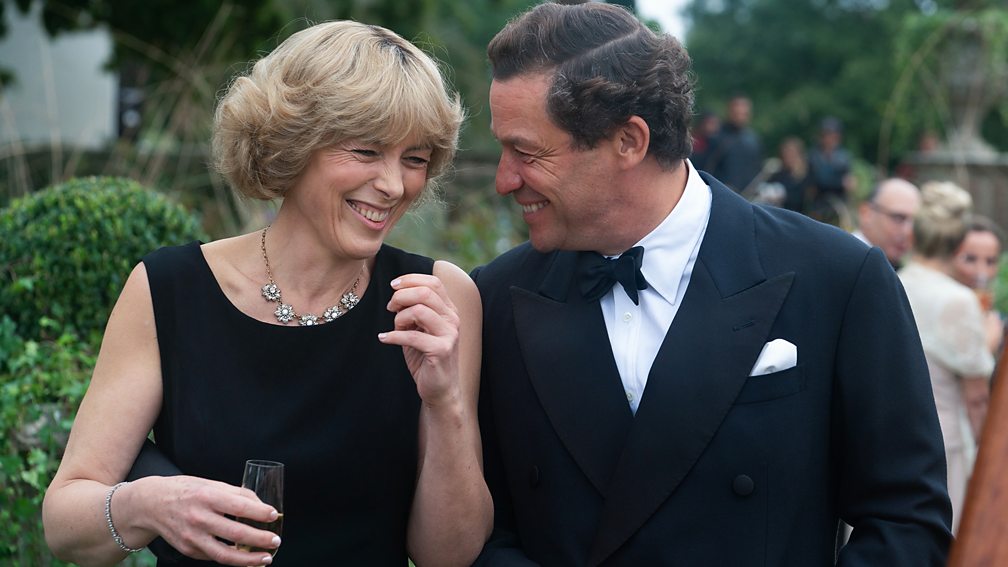 Netflix
Six more instalments of the show will arrive on 14 December, going through to the wedding of Charles and Camilla in 2005 (Credit: Netflix)
There is clumsiness throughout, though, including the ongoing stark contrast between Diana's sun-bathed days and the dark wood and shadows inside Buckingham Palace.  A paparazzo who photographs Diana says of his profession "You have to be like hunters, killers", one more winking, leaden invitation to fill in the blank.
In episode four, Morgan enters the period of his 2006 film, The Queen, with Helen Mirren, about the aftermath of Diana's death, and we are struggling through two layers of the past, history and that film's version of it. This time it is Charles, rather than Tony Blair, who urges the Queen to leave Balmoral and go to London to publicly mourn, telling her she needs to be "mother to the nation". Staunton is steelier than Mirren when she replies, "I'd rather not be lectured on how or when to grieve or show emotion". 
Without making her any less the beloved Queen of recent memory, in a thoroughly convincing performance Staunton is positively beady-eyed and firm in her resistance, backed up fully by Prince Philip (Jonathan Pryce). If only we had seen more of what she might have thought. But she abruptly relents and heads to London, after she imagines ghostly Diana talking to her. The jarring change is as sudden as Charles' appreciation of what Diana meant to the country. Such character swerves make it seem as if the series is racing along to catch up to the story points everyone expects and gets to see, whether we need to or not: William and Harry walking behind their mother's coffin, the Queen finally giving her address to the nation about Diana, which in Staunton's uncompromising portrayal displays the forced nature of it all.
Morgan's elegant writing and penetrating, speculative psychology have been immensely intriguing, a joy to watch over the years. Too often in these predictable last seasons, though, we could have written the story ourselves.
The Crown season 6 episodes 1-4 is released on Netflix on 16 Nov. Part two of season 6 is released on 14 December.
---