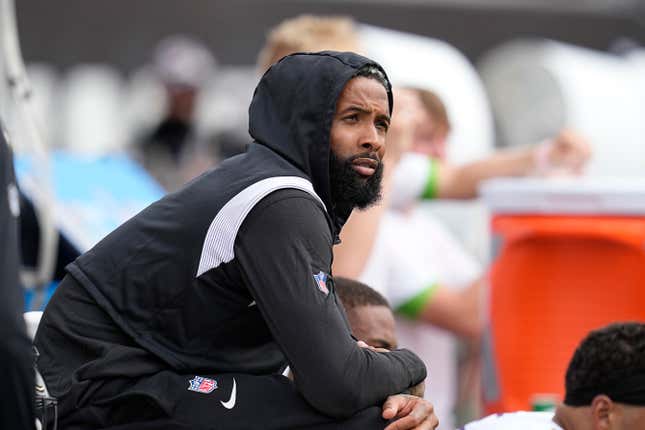 There was so much optimism entering the 2023 NFL season in Baltimore behind a revamped offense led by former MVP Lamar Jackson with newly signed Odell Beckham Jr, once one of the leagues most exciting receivers, as a weapon. Unfortunately, the injury bug didn't take long to find OBJ in a Ravens uniform. Beckham left Sunday's game against the Bengals with an ankle injury and was ruled out for the remainder. A guy who was once on a Hall of Fame track can't catch a break where injuries are concerned.
Is Lionel Messi the best thing to happen to American soccer? | Agree to Disagree
The last time we saw OBJ on an NFL field before this season was in Super Bowl LVI as a Los Angeles Ram. Beckham also left that game with an injury after looking like he was on his way to potentially being named Super Bowl MVP. He got off to a quick start with two catches for 52 yards and a touchdown before halftime. Then OBJ hurt his knee and couldn't return. Having this happen in mid-February caused Beckham to miss the entire 2022-23 campaign rehabbing.
Before OBJ's second game as a Raven, he took the field to warm up in his custom Randy Moss Air Jordan cleats. He bounced around in a good mood before the game, but the good vibes didn't last long. OBJ's been a fan favorite in the league since making that spectacular grab over Brandon Carr against the Dallas Cowboys nearly a decade ago.
For most of OBJ's career, he's been one of those "if he's healthy" guys. That caveat is usually attached to him because of his immediate impact upon entering the NFL with the New York Giants. Many have felt he could recapture some of that even as he's become one of the elder wideouts in the league. With another lower extremity injury, you have to wonder how many more dances he has left. Beckham will be 31 in November. He is a young man in the grand scheme of life but old and banged up by NFL standards.
This new era in Baltimore is off to a 2-0 start, as they held on to beat Cincinnati without OBJ, 27-24. However, he was supposed to be a big part of this offense, which could be in jeopardy, depending on the severity of this latest setback. It's hard to shake that injury bug once it latches onto certain players. Plan on seeing Beckham again sometime this season, but it could be a few weeks, seeing how those ankle injuries can be tricky to get past.