The governor wants to roll it back, but she doesn't have the votes.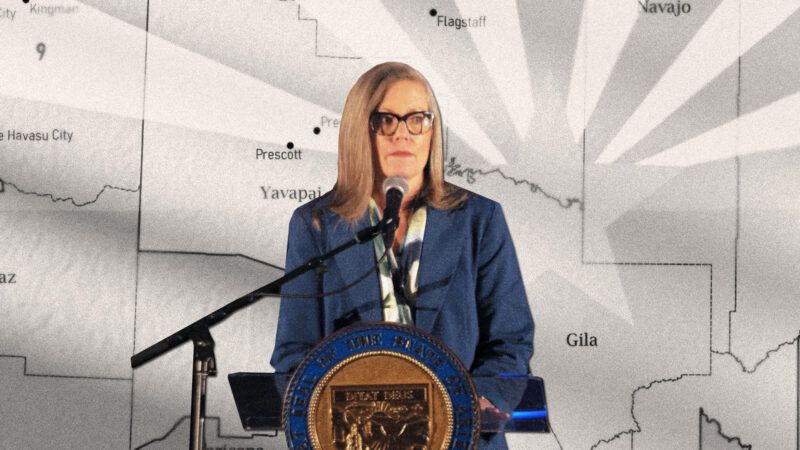 (Illustration: Lex Villena, Christopher Brown/ZUMAPRESS/Newscom)
Arizona's newly sworn-in governor has repeatedly said that she wants to reverse the state's expansion of its school-choice program, arguing that Arizona should instead increase funding to public schools. But the program seems safe for now.
In July, Arizona expanded its Education Savings Account (ESA) system, creating the largest school choice program in the nation. Any child who opts out of public school will receive around $7,000 per year to use toward private-school tuition, a homeschooling curriculum, tutoring, or other expenses. Previously, this funding had been available only for students who met certain requirements, such as having a disability, attending a low-performing school, or living on an Indian reservation.
"This is a monumental moment for all of Arizona's students. Our kids will no longer be locked in under-performing schools," then-Gov. Doug Ducey tweeted after he signed the plan into law. "Arizona is cemented as the top state for school choice and as the first state in the nation to offer all families the option to choose the school setting that works best for them."
Hobbs doesn't have the same warm feelings. "This voucher system we are under now doesn't provide real choice in educational opportunity for most families," Hobbs claimed in an October PBS interview. "It diverts resources from public schools." In her recent State of the State address, she even argued that ESAs "will likely bankrupt the state."
In fact, the Common Sense Institute has argued compellingly that the program will save money. While the state spends more than $12,000 per student in public schools, a typical ESA award is jus $7,000 for non-disabled students. The savings gained from reduced attendance at public schools means that "policymakers can still expect net aggregate statewide education cost savings of over $274 million," the institute concludes.
"Opponents claim that ESAs 'siphon' or steal money from a student's local public school each time a child opts for an ESA," writes Matt Beienburg, director of education policy at the Goldwater Institute. "But in reality, under the ESA program, funding simply follows the student, just like it already does for charter and district schools via the state's 'open enrollment' system." Beienburg argues that "the financial impact to a child's local school is virtually identical."
In any event, Hobbs doesn't have the votes to repeal the measure. Her budget plan defunds the program, but Republicans narrowly control the Arizona legislature and they have made it clear that they won't accept that. (House Majority Leader Leo Biasiucci recently included attacks on school choice in a list of ideas he declared "non-starters.") Hobbs can't even use her line-item veto powers to defund the progran, because it is—to quote Jason Bedrick and Corey DeAngelis, writing last week in The Wall Street Journal—"funded by formula tied to money for public schools."
That may be better not just for students but for Hobbs' political fortunes. "A Morning Consult tracking poll this month found 67% of Arizonans and 77% of parents with school-aged children support ESAs," Bedrick and DeAngelis note. "Enrollment has surged to 45,000 from 10,000 since the expansion. Even Ms. Hobbs should think twice before alienating these constituents."