The factory may have been a bad deal for Virginia, but tying the decision to Chinese aggression is the wrong move.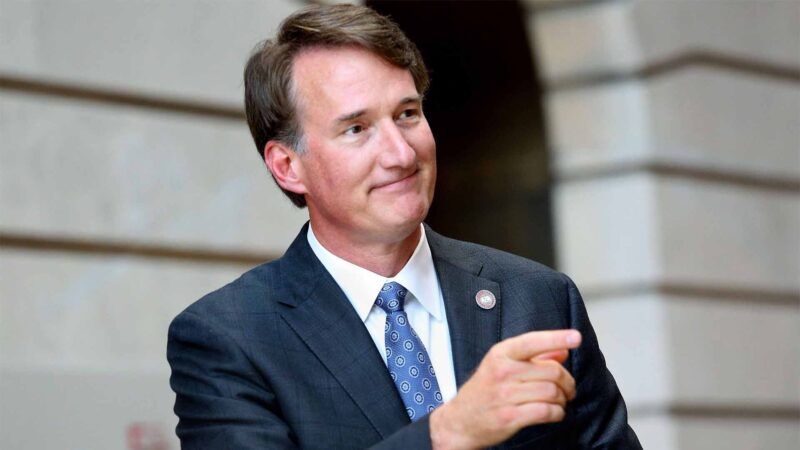 (Stephen M. Katz/TNS/Newscom)
As the automobile market shifts toward electric vehicles, the industry is experiencing a correlated boom in manufacturing. Automakers have pledged tens of billions of dollars toward new domestic factories that can build electric cars and batteries. But while many states would likely welcome the infusion of capital, all too often, state governments use taxpayer money to incentivize developments.
In that sense, it's encouraging to see that Gov. Glenn Youngkin, a Republican, turned down an offer from Ford Motor Co. to build a battery plant in Virginia—except Youngkin nixed it not over the state tax incentives it had requested but over misplaced concerns about China.
Last month, Bloomberg reported that Ford wished to build a battery manufacturing facility in partnership with Contemporary Amperex Technology Co., Ltd. (CATL), a Chinese battery manufacturer. The companies were considering Michigan, Ford's home state, and Virginia. Days later, the Daily Caller reported that Youngkin had removed his state from consideration, citing "CATL's connection to the Chinese government" as a "major concern." In remarks to reporters after his State of the Commonwealth address last week, Youngkin confirmed the reports, saying "We felt that the right thing to do was to not recruit Ford as a front for China to America."
While there are plenty of good reasons not to sign off on a particular development deal, fears over Chinese hegemony rank low on the list.
Last month, Youngkin also banned TikTok and WeChat, social media apps based in China, from state-owned devices. The impulse to ban TikTok is a bipartisan one, based on (so far unproven) fears that the app is funneling user data to the Chinese government and its dominant political entity, the Chinese Communist Party (CCP). But the fear over the Ford/CATL plant stems from its ownership structure: While Ford would own 100 percent of the facility and its equipment, CATL would operate the plant and own the battery cell technology. Youngkin's legal counsel told The Washington Post that the arrangement constituted "national security risk-type technology."
But even if CATL did share its technology with the Chinese government, it's not clear how that constitutes a national security risk to the United States. After all, battery cells made by private companies are not state secrets. And plenty of other automakers already manufacture electric cars, meaning that China can't have a monopoly on battery technology. Besides, if Americans are able to buy cars that don't have to use gasoline, what does it matter who manufactured them?
More than anything, Youngkin's decision feels like good old-fashioned economic protectionism, favoring domestic companies over foreign firms no matter the impact on the end consumer. In the State of the Commonwealth address, Youngkin also called for the General Assembly to "send me a bill to prohibit dangerous foreign entities tied to the CCP from purchasing Virginia farmland." This is a similarly bipartisan proposition: In last year's Georgia gubernatorial debate, Democratic candidate Stacey Abrams complained about "the rise of Chinese Communist Party-backed companies purchasing American farmland." Notably, in each case, neither China nor the state government is seizing anyone's land; Chinese entities are purchasing land at rates Americans are willing to accept.
In keeping with many years' worth of doomsaying, Youngkin called the CCP "a dictatorial political party that only has one goal: global dominance at the expense of the United States." But China has so far proven a bit of a failure as a hegemony. And fearmongering over the country's industrial influence is ultimately antithetical to an ethos of free trade.