(Image credit:
Getty Images
)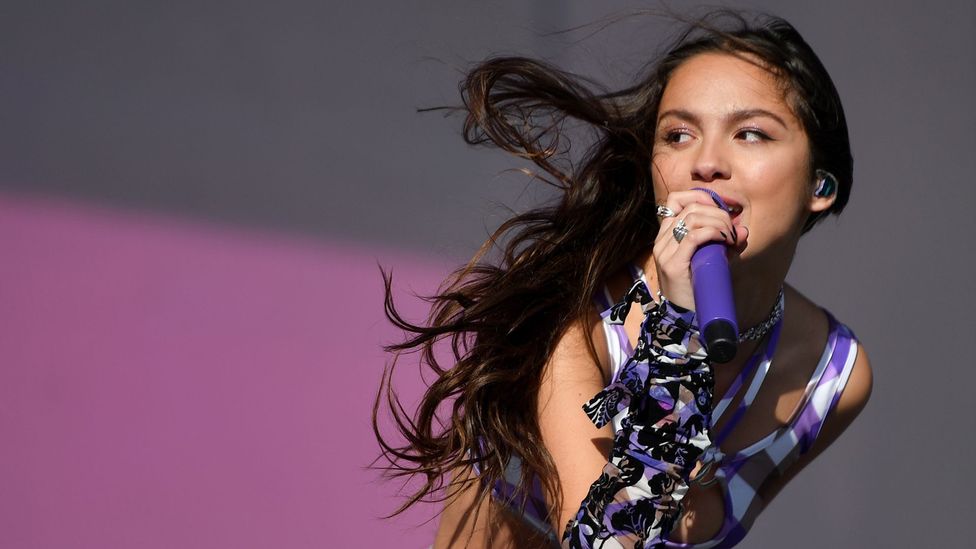 Since her single Drivers License became a global phenomenon, Olivia Rodrigo hasn't looked back. With her second album Guts out today, Nick Levine examines her cleverly-calibrated appeal.
E
Every decade has its pre-eminent pop stars – from The Beatles in the 1960s to Madonna and Michael Jackson in the 1980s, and on to Taylor Swift in the 2010s. At just 20 years old, California-born Olivia Rodrigo is already a defining voice of the 2020s. Her spiky, emotionally heightened pop-rock songs resonate not just with the singer's Gen Z peers, but older generations too. "Part of her appeal is that she gives you permission to feel everything and not to have to dilute anything, which is very necessary after the last few years," music writer Rhian Daly tells BBC Culture, pointing to our collective need for post-pandemic release.
More like this:
–      Why Miley Cyrus is the ultimate 21st-Century star
–      The return of Taylor Swift's seminal LP 1989
–      Is it time to reconsider Britney Spears' legacy?
Out today, Rodrigo's second album Guts is comfortably among this year's most anticipated pop records. Consistently catchy and often stingingly witty, it demonstrates her range by blending deceptively delicate ballads including Lacy, in which Rodrigo eyes up a rival who's a "dazzling starlet, Bardot reincarnate", and retro-leaning guitar tunes. The alt-rock-flavoured Ballad of a Homeschooled Girl offers a crisply unsentimental account of social awkwardness that draws from Rodrigo's own experience of homeschooling as a teenager.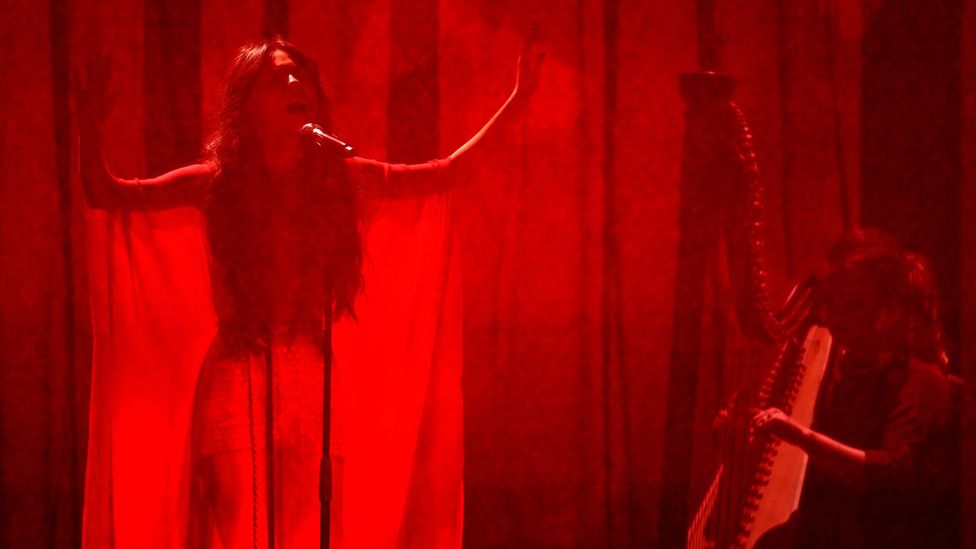 Olivia Rodrigo performing Driver's License at the 2021 Brit awards; the song broke streaming records (Credit: Getty Images)
Guts has already signposted Rodrigo's musical growth by yielding a transatlantic number one single, Vampire, which begins as a hushed piano ballad before building into a mini rock opera. Rodrigo has said she was inspired by 1990s female artists "who aren't afraid to be angry and remorseful and like spiteful and snarling," and you can definitely hear this when she crisply eviscerates an ex for "bleedin' me dry like a goddamn vampire".
The album's other trailer single, Bad Idea Right?, is driven by a chugging guitar riff that nods to the 1980s new wave era, but Rodrigo's vocal delivery is coolly contemporary. When she repeatedly asks whether reconnecting with an ex is a "bad idea, right?" before swearing and saying "it's fine", it comes off as funny and relatable. She also displays her flair for a pithy lyric on Get Him Back, a hooky pop-rap track that sounds like a future single. "He had an ego and a temper and a wandering eye," Rodrigo deadpans drolly. "He said he's 6ft 2 and I'm like, 'Dude, nice try'." "The key to Rodrigo's songwriting is her ability to tell a great story in a way that feels like a conversation or as if you're reading her diary," says Daly, who also praises the singer for penning lyrics that capture "how people of her generation speak".
Like her blockbuster debut album, 2021's Sour, which went four-times platinum in the US, Rodrigo crafted Guts with producer Dan Nigro. Rodrigo isn't the only Gen Z superstar with a go-to collaborator – Billie Eilish writes almost exclusively with her brother Finneas – but this partnership still feels noteworthy given that many modern pop hits are polished to a high sheen by larger songwriting teams. Rodrigo explained in an interview with Zane Lowe for his Apple Music show how she loves working with Nigro, who has also written with Lewis Capaldi and Caroline Polachek, among others, because he "cares enough" to tell her when she can do better. As she recalled, after she played Nigro an early version of Drivers License, the stunningly intimate ballad that would become her breakthrough hit, he told her: "Yeah, that's great, but you need to, like, finish the chorus."
Though Rodrigo cut her teeth on teen-oriented shows, she never really had to shake off the "Disney star" shadow
Drivers License was an instant global phenomenon. Four days after it was released in January 2021, it broke Spotify's record for the most single-day streams by a non-Christmas-themed track. At the time, Rodrigo was relatively unknown to pop fans, though she had already starred in two Disney Channel series: the quirky comedy Bizaardvark and meta mockumentary High School Musical: The Musical: The Series. In the latter, which she only left last year, she played budding singer-songwriter Nini Salazar-Roberts and contributed songs to the soundtrack. When her plaintive, self-penned ballad All I Want became a surprise Billboard Hot 100 hit in 2020, it essentially soft-launched Rodrigo's recording career and helped her to secure a very favourable record deal where she retains control of her masters.
A teen star with a difference
Though Rodrigo cut her teeth on teen-oriented shows, she never really had to shake off the "Disney star" shadow that followed Miley Cyrus and Selena Gomez in the late 2000s. Hugh McIntyre, a music journalist with Forbes, attributes this to the "more fractured" entertainment landscape she came up in. Through her Disney Channel work, Rodrigo had "built a brand" that appealed to a younger demographic while simultaneously "remaining under the radar for the rest of the populace". For this reason, Drivers License felt like the arrival of a wildly talented new artist, not a grown-up pivot from a previously winsome teen star.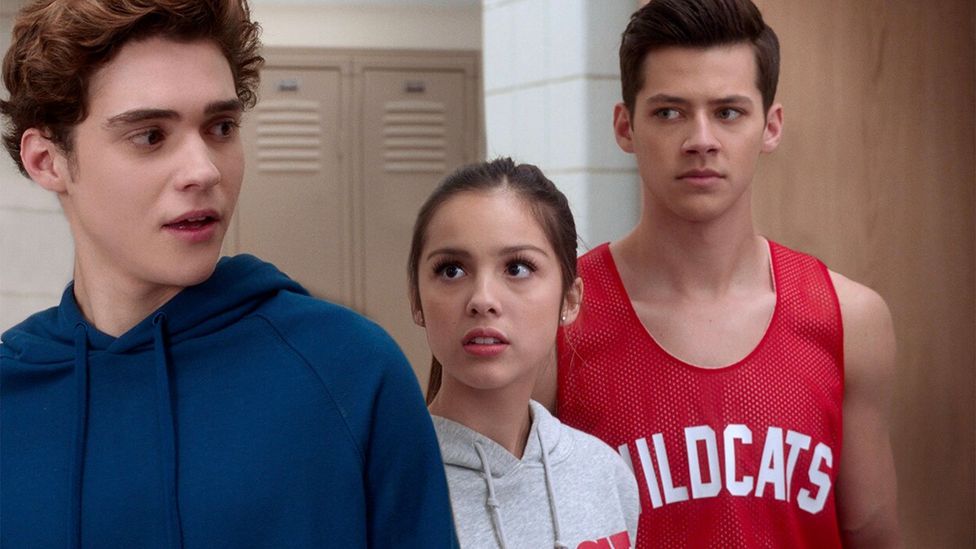 Rodrigo first made her name in Disney channel shows such as High School Musical: The Musical: The Series (Credit: Disney)
Rodrigo cemented her meteoric rise in May 2021 by performing Drivers License at the Brit Awards, the UK's leading music awards ceremony. Ten days later, she released Sour to overwhelmingly positive reviews. Across her 34-minute debut, she displayed an impressive ability to mix frenetic pop-punk gems like Good 4 U, another transatlantic chart-topper, with heart-rending ballads. On Deja Vu, she reminds a piano-playing ex that she "was the one who taught you Billy Joel" – a prime example of her highly evocative style. "Even though she is singing about her own specific experiences, her lyrics have a universality to them," Daly says. This gift for intimacy is arguably even more impressive because Rodrigo never illuminates her songwriting by discussing her relationships. "I don't kiss and tell," she told Vogue in July, while also acknowledging that she does "understand" why people might be interested in her love life. 
She is creating sort of a radio-friendly version of the pop-punk that millennials grew up with, so to them, it feels nostalgic and familiar – Hugh McIntyre
Rodrigo's coming-of-age tales and heartbreak vignettes are often encased in cleverly retro packages. Sour's fifth single Brutal recalls 1990s Britpop band Elastica and features a guitar riff similar to the one that drives Elvis Costello's 1978 new wave hit Pump It Up. For McIntyre, these nods to pop's past are integral to her broad appeal. "She is creating sort of a radio-friendly version of the pop-punk that millennials grew up with, so to them, it feels nostalgic and familiar," he says. "Whereas among her younger [listeners], a lot of them are discovering [this sound] for the first time." Rodrigo has really leant into this nostalgia with her choice of live covers. During 2022's Sour Tour, she sang Avril Lavigne's 2002 pop-rock smash Complicated, No Doubt's 1995 feminist anthem Just a Girl and Veruca Salt's 1994 grunge nugget Seether. 
Most notably of all, Rodrigo welcomed Lily Allen to the stage at last year's Glastonbury music festival for a pointed rendition of the British singer's 2009 diatribe Fuck You. Rodrigo dedicated it to "the five members of the Supreme Court" who had recently voted to overturn Roe v Wade, thereby allowing individual US states the power to restrict access to abortions. It was one of her first overtly political moments and made headlines across the world, a sign of Rodrigo's burgeoning status as a voice of her generation.
Her first taste of controversy
Rodrigo's fondness for pop nostalgia has certainly widened her appeal, but it also led to her first significant controversy as an artist. When Sour was released in May 2021, Taylor Swift and her producer Jack Antonoff were credited as co-writers on the emotive piano ballad 1 Step Forward, 3 Steps Back because of the way it "interpolates" – or musically imitates – Swift's song New Year's Day. Rodrigo told Billboard that she wrote a verse and a chorus, then "decided to sing it over the chords of New Year's Day" and "was lucky enough to get that approved [from Swift]". However, two other Sour tracks have since had writing credits added retroactively after fans spotted similarities with other songs.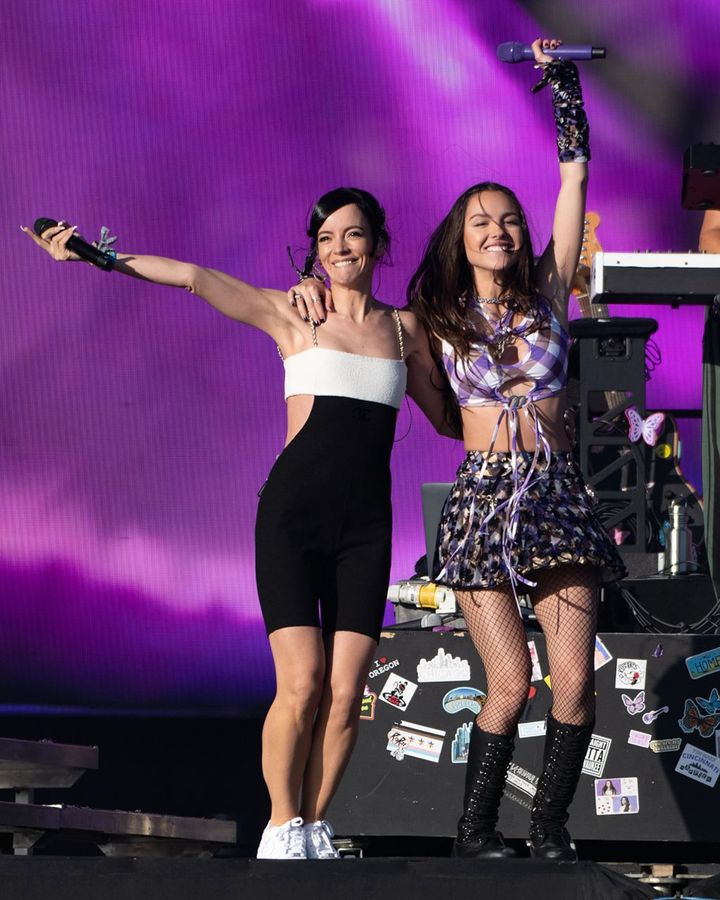 Rodrigo's expletive-filled duet with Lily Allen at Glastonbury has become one of her defining moments so far (Credit: Getty Images)
Swift, Antonoff and Annie Clark (aka indie musician St Vincent) were added to Deja Vu's credits because Rodrigo's vocal performance pays homage to Swift's delivery on Cruel Summer. Rodrigo had previously told Rolling Stone that she loves the "harmonised yells" on Swift's track and "wanted to do something like that". Then Paramore's Hayley Williams and Josh Farro were retroactively credited on Good 4 U because of a broader sonic similarity with their 2007 pop-punk hit Misery Business, which had been highlighted by fan-made mash-ups. Artists have been more willing to hand over songwriting credits in this way since a landmark 2015 court case in which a jury ruled that Robin Thicke and Pharrell Williams' Blurred Lines had borrowed from Marvin Gaye's Got to Give It Up simply because the two songs share a similar "feel". Still, accusations of "plagiarism" must have stung Rodrigo at such a pivotal point in her young career.
Seeing people online accusing you of plagiarism must have been tough but she handled it pretty graciously – Rhian Daly
However, it is worth noting that not every musician views Rodrigo's homages as a form of plagiarism. When a fan tweeted that Brutal is "pretty much a direct lift from Elvis Costello", the British veteran replied: "It's how rock and roll works. You take the broken pieces of another thrill and make a brand new toy." Daly argues that Rodrigo was "absolutely correct" when she told Teen Vogue that "nothing in music is ever new". "Seeing your debut album picked apart by people online accusing you of plagiarism must have been tough," Daly adds, "[but] she handled it pretty graciously." Meanwhile, McIntyre believes it is "definitely significant" that Rodrigo hails Swift as an influence because it underlines her status as a truly next-generation star. "We now live in a world where [young] artists like Rodrigo and Billie Eilish grew up on Taylor Swift, which might be kind of surprising to millennial fans who see Swift as their peer," he says.
The elegant way Rodrigo weathered this controversy also suggests she possesses the right temperament for a long-term pop career. It was impossible not to empathise when she told Time that "it was really frustrating to see people discredit and deny my creativity". This incredible creativity is now set to enchant fans again with Guts, an album "about figuring stuff out, failures and successes and making mistakes". The brilliant, new wave-flavoured Love Is Embarrassing may be set in high school, but it will provoke a cringe of recognition in anyone who has ever let their feelings run away from them. "I'm plannin' out my wedding with some guy I'm never marryin'," Rodrigo sings with an implied eye roll.
Very few artists can write about these messy milestones in a way that resonates with listeners from different age groups, which is why Rodrigo's rise is unlikely to slow any time soon. When she spills her guts into a song, millions feel seen.
Guts is out on 8 September.
If you liked this story, sign up for the weekly bbc.com features newsletter, called The Essential List. A handpicked selection of stories from BBC Future, Culture, Worklife and Travel, delivered to your inbox every Friday.
If you would like to comment on this story or anything else you have seen on BBC Culture, head over to our Facebook page or message us on Twitter
;