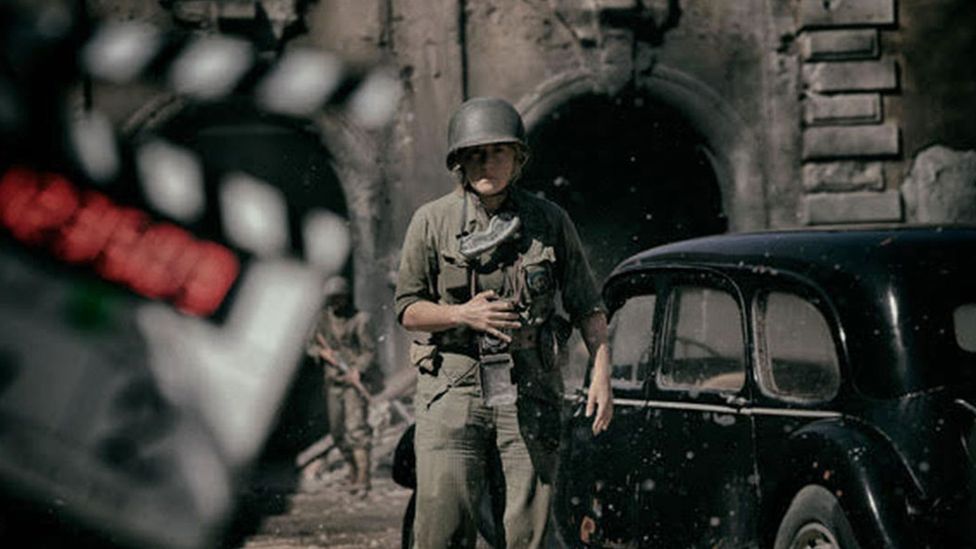 A new film, which stars Kate Winslet and premiered at TIFF, shows how a Vogue model became a ground-breaking World War Two photographer.
A
Antony Penrose's biography of his mother is called The Lives of Lee Miller for good reason. She had so many. In New York, she was a great beauty who became a fashion model, then a fashion photographer. In Paris, she was a friend of Picasso and did art photography with Man Ray. But it was as a photographer during World War Two that she did her most enduring work, black-and-white photos that offered distinct, intimate views of how the war affected lives. She saw that a lone soldier's boot lying on a street could tell a story.
More like this:
– How a Vogue photographer fought World War Two
– Lee Miller: In Hitler's bathtub
– The photos of grief that symbolised the anti-war movement
That period of her life is the focus of Lee, with Kate Winslet as the US-born Miller. Winslet also initiated and produced the film, based on Penrose's 1985 book, and in a lifetime of well-chosen roles, this may be her richest. She gives us a restless, fierce, independent woman who found her voice as a witness to war, and paid the psychological price. To direct, Winslet brought on the great cinematographer Ellen Kuras, who worked with her on Eternal Sunshine of the Spotless Mind, and who shapes the film with supreme authority and intelligent choices at every turn.  
The opening plunges us into battle, with Miller in a helmet and army fatigues running through a street trying to escape gunfire, until she collapses against a barrier of sandbags. But that is merely a tease of what's to come. From there we jump to 1977, where 70-year-old Miller (Winslet in convincing and subtle prosthetics and make-up) is being interviewed by a young man (Josh O'Connor) at her home, Farley Farmhouse in Sussex.
She chain-smokes, drinks in the middle of the day and tosses questions back at the unnamed interviewer. At the film's end, there is a lovely resolution to the question of what this interview is about, but until then it remains no more than a creaky, serviceable way for Winslet to insert a voiceover now and then to get from here to there in the story. The device is too conventional to match the unconventional Miller, and the film only becomes truly remarkable when its heroine sets off for war.
Lee
Director: Ellen Kuras
Cast: Kate Winslet, Alexander Skarsgård, Andrea Riseborough, Marion Cotillard, Josh O'Connor, Andy Samberg
Run-time: 1hr 56m
Before then we see her in 1938 in the south of France. "I'd been the model, I'd been the muse, I'd been the ingenue," the older Miller says. "I was done with that." Still, we find her staying with glamorous friends, including Solange (Marion Cotillard), and get a taste of her free-spirited life with artists and writers. There she meets Roland Penrose (Alexander Skarsgård), a painter and art dealer, and in a drastic foreshortening, they instantly become a couple. (In reality, the beginning of the relationship was more complicated, and they didn't marry until 1947 – although they stayed married for the rest of her life.)
Becoming a war photographer
Living with Roland in wartime London, she begins work as a photographer for British Vogue, whose editor, Audrey Withers (Andrea Riseborough), becomes her professional champion and great friend. And she meets David Scherman (Andy Samberg), a photographer for Life magazine whom she affectionately calls Davey and who later becomes her travel partner as they cover the war. Samberg fits as easily into the drama as Davey did into Miller's life.
The male roles, Davey's and Roland's, are underwritten. That might be because they are not the point in a film that is determinedly from a female perspective. When Miller and Davey go to a British military base and she is barred from much of it because women are not allowed, she photographs the women's barracks, their stockings and underwear hanging to dry, and a woman pilot posing in the doorway. "Only you could have taken these," Withers tells her about those shots, and throughout the film we see how accurate that is. Miller arranges some compositions, discovers telling angles for others, and always brings a bracingly fresh eye to her work, which we often see as she hands photographs to the interviewer.
In one of the film's most wrenching scenes, Miller learns how horrific the war has been even for those who survived
When she becomes accredited as a journalist by the US military, the film truly comes to match the importance of her work, and gives us the measure of its emotional psychological cost. She goes to Normandy, and faces fire during a battle in St Malo, France (that opening scene). Davey joins her as they cover the war across Europe. "We drove for months, didn't wash for weeks," we hear the older Miller say as we see them in a jeep driving through dusty streets. After Paris is liberated, she finds her way amidst crumbling buildings to visit Solange, and in one of the film's most wrenching scenes, learns how horrific the war has been even for those who survived.
Winslet let us see the toll that knowledge takes, as Miller forces herself to look at and document the most unbearable scenes. When the war ends, she and Davey enter Germany and go to Dachau. We do not see what Miller does when she enters one room, but in the interviewer's hand we see the photograph she took that day, of piles of corpses. Kuras modulates all this in a style that smoothly takes us into Miller's experience and unique point of view, but with an eloquent understatement.
The war scenes speak loudly on their own, with no need to add dramatic emphasis. Alexandre Desplat's score matches that style, with a subtle, piercing beauty. If the first half of Lee had been as dazzlingly effective as the second, it might have been a great film instead of a very good one.
Penrose's biography includes a letter she wrote about her difficulty crossing the border into Hungary in 1945, when Russian guards pointed guns at her. "The adventures were good cinema," she said. In the end, they certainly were.
★★★★☆
If you liked this story, sign up for the weekly bbc.com features newsletter, called The Essential List. A handpicked selection of stories from BBC Future, Culture, Worklife and Travel, delivered to your inbox every Friday.
If you would like to comment on this story or anything else you have seen on BBC Culture, head over to our Facebook page or message us on Twitter.
;